You could say that winemaking runs in the family. Walt Vinoski, whose surname translates into "Son of Winemaker," can trace his winemaking roots back to 1200 AD when the Polish Winowski Family made wines for royalty. At that time, Poland's borders stretched from the Baltic Sea to the Black Sea and Warsaw, along with Rome and Paris, which were the cultural capitals of the world.
The family's winemaking passion and heritage found its way to the United States in the late 1800's when Walt's great grandfather, Pawel Winowski, moved from Poland to settle in Connellsville, Pennsylvania where he took a job with the B&O Railroad. Upon entering the country his name was spelled phonetically and changed to Vinoski.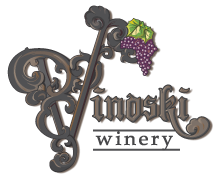 In his new country, Pawel continued his winemaking passion and expertise, producing wines and mead from grapes, fruits, and honey. In doing so he passed on his knowledge to the next generation. At the age of 4, one of Walt's earliest memories was making wine with his grandfather Andrew. Even at that early age, Walt was charged with the responsible job of picking and sorting the fruit.
Today, eight centuries later, Walt Vinoski carries on the family tradition of making fine wines once reserved to the Dukes, Princes, and Kings of Poland.
Spend a leisurely afternoon right here at our Westmoreland County winery – click to get directions!